Trypanosomiasis
Trypanosomiasis (CHAGAS DISEASE)
Causative agent

Protozoan parasite Trypanosoma cruzi

Transmission

Triatomine bug ? faeces contains parasites that enter the wound left after the insect?s bloodmeal.
Transfusion with infected blood
Congenitally, from infected mother to fetus

Symptoms

Acute phase ? fever and swollen lymph notes develop days after infection. Can cause death in young children.
Chronic phase ? parasites invade most organs, causing heart, intestinal, and oesophageal damage. Few to no parasites in the blood.

Distribution

18 countries, mainly throughout Mexico, central and southern America.

Elimination programs

No global programs, some country partnerships.

Number infected

16-18 million (Source: WHO)

Number at risk

120 million (Source: WHO)

Disease burden

649,000 DALYs (Source: WHO)

Number of deaths

14,000 deaths per year (Source: WHO)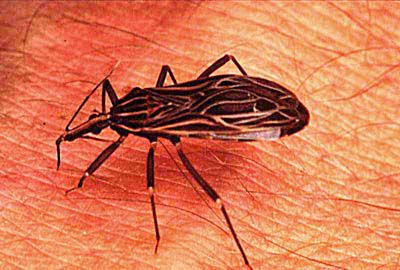 Triatomine bug
Diagnosis

The detection of the T. cruzi parasiste can be achieved using examination of fresh blood or staining techniques. However, microscopically the parasite can be easily confused with the non-pathogenic Trypanosoma rangeli. The new version of Cellabs T. cruzi IgG CELISA II is based on a recombinant antigen and detects the presence of antibodies produced during Trypanosoma cruzi infection, which appear soon after infection and rise to high levels. The presence of antibody is usually regarded as the best practical indicator of infection. The kit can be used to detect current or previous infection.
NEW! - T. cruzi IgG CELISA (Recombinant Antigen)

The new Cellabs T. cruzi IgG CELISA II is a direct ELISA kit based on a recombinant antigen that replaces the previous version of the kit that was based on a native T.cruzi antigen. designed to detect antibodies produced during T. cruzi infections (Chagas disease) Easily automated, with results in under three hours, it is ideal for blood banks in the Latin American region.
? Most reagents ready to use
? Long shelf life
? Clinically reliable
? Optimised for use in Latin America
? Reliable blood bank screening
? 98% sensitivity and 98% specificity
? Designed for blood bank screening
? Easily automated protocol
? Visual or photometric detection
? Results in about 3 hours